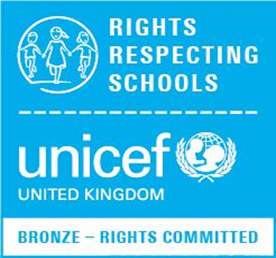 The UNICEF UK Rights Respecting School Award (RRSA) is based on principles of equality, dignity, respect, non-discrimination, and participation. The RRSA seeks to put the UN Convention on the Rights of the Child at the heart of a school's ethos and culture to improve well-being and develop all child's talents and abilities to their full potential.
A Rights Respecting School is a community where children's rights are learned, taught, practised, respected, protected, and promoted. Young people and the school community learn about children's rights by putting them into practice every day.
We are a rights respecting school and students at Blue Coat Church of England Academy are part of a strong, inclusive community, where the inherent dignity of every child is valued. Students have a strong voice and are regularly consulted about the development of our school.  Students speak positively about the strong relationships within our school and the respect shown with in our Blue Coat Family.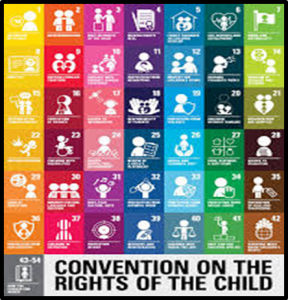 Please click on the following link to see a copy of the full UN Convention or a summary document:https://www.unicef.org.uk/what-we-do/un-convention-child-rights/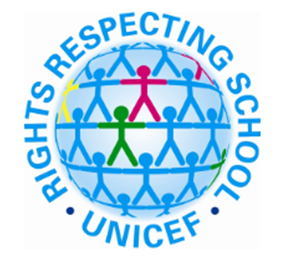 Rights in Action
Article 2 (non-discrimination)
The Convention applies to every child without discrimination, whatever their ethnicity, sex, religion, language, abilities, or any other status, whatever they think or say, whatever their family background.
Student voice has been used extensively in the last 18 months, to gather students' thoughts and opinions on prejudice and discrimination. Their feedback has resulted in a change to the form time curriculum and has established the importance of this right at the heart of our community. It is a key priority for the school and our 'Stand together Against Hate' strategy, aimed at educating and preventing prejudice and harassment in all its forms, has positively impacted students understanding of their rights and how to keep themselves safe. 78% of students believed that the school has been successful in stopping students from harassing others and 81% of student now believe that their fellow students understand what harassment is.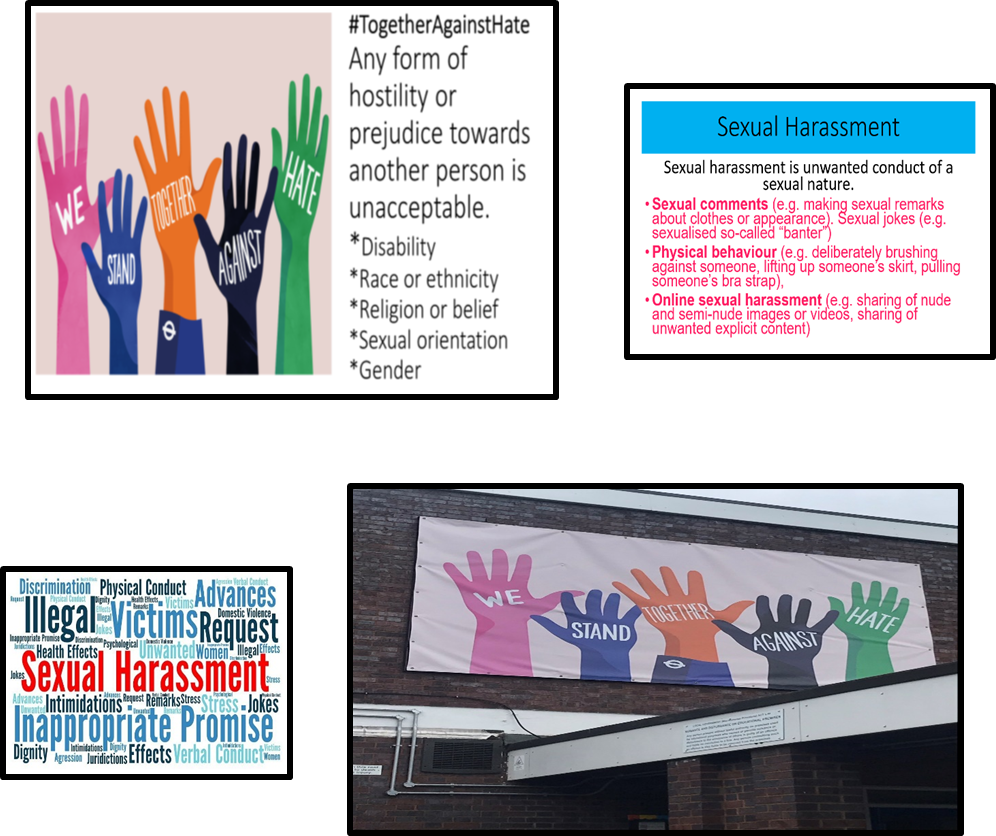 Thank you to Transport for London and the Mayor of London's Office for their support in gaining permission to reproduce and display the We Stand Together Against Hate banner.
Article 24 (Health and health care)
Every child has the right to the best possible health. Governments must provide good quality health care, clean water, nutritious food, and a clean environment and education on health and well-being so that children can stay healthy. Richer countries must help poorer countries achieve this.
Every year students collect donations for the local food bank, as well as raising money for international charities to provide humanitarian relief for those in need. The school also works with a local charity to drop of food parcels to families within the local community on a termly basis.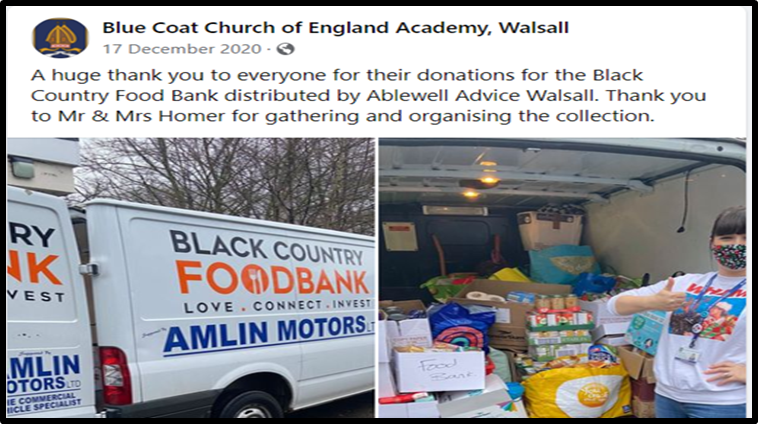 Article 42 (knowledge of rights)
Governments must actively work to make sure children and adults know about the Convention.
At Blue Coat Church of England Academy students learn about their rights in form time, during assembly, on Personal Development Days and during lessons.

Article 19 (protection from violence, abuse and neglect)
Governments must do all they can to ensure that children are protected from all forms of violence, abuse, neglect and bad treatment by their parents or anyone else who looks after them.
At Blue Coat Church of England Academy, we work hard to keep students safe. We have a Youth Mentor who works with young people and helps them understand the dangers involved in gangs and violence. We also support students through workshops and events and give them the tools to keep themselves safe.
Article 30 (children from minority or indigenous groups)
Every child has the right to learn and use the language, customs, and religion of their family, whether these are shared by most of the people in the country where they live.
The school has a Diversity and Inclusion Group that meets regularly to discuss ideas and promotes students' rights within school. They have influenced events, staff training and the curriculum. The school's first Diversity and Inclusion Day will be held on 24th June 2022. Students will discuss their cultural heritage, take part in lessons on diversity and inclusion and wear the colours of the flag they identify with or their cultural dress. World music and dance activities, as well as a fashion show are all planned for the day.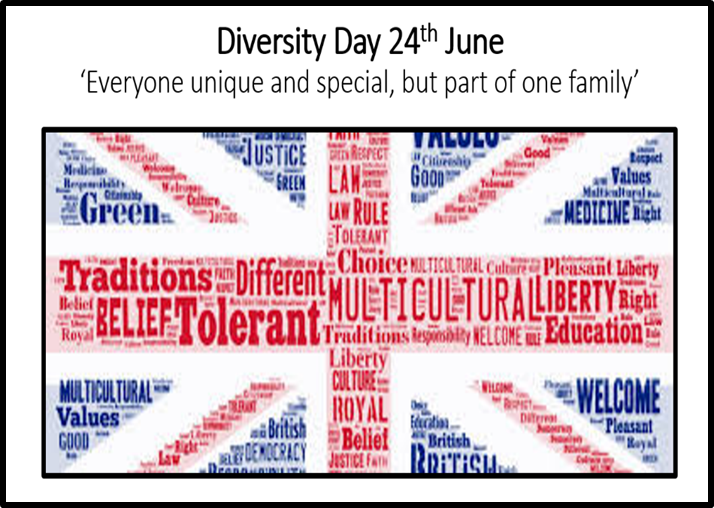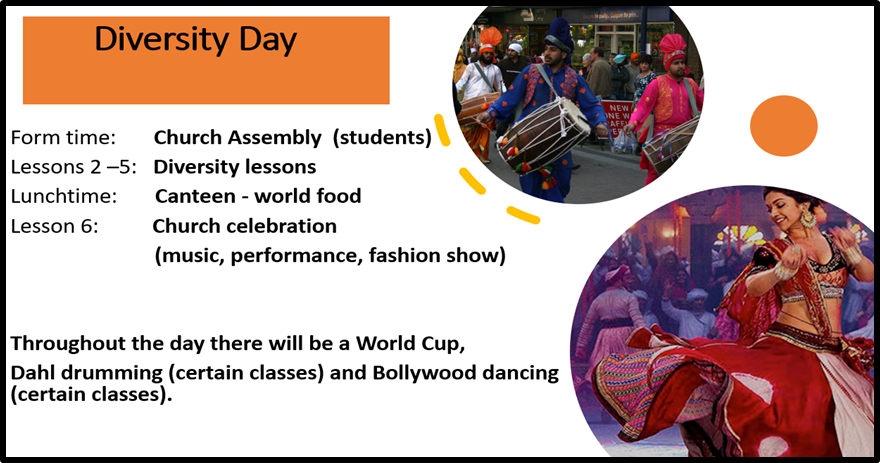 Article 39 (recovery from trauma and reintegration)
Children who have experienced neglect, abuse, exploitation, torture or who are victims of war must receive special support to help them recover their health, dignity, self-respect, and social life.
At Blue Coat Church of England, we do everything we can to support students who are recovering from trauma and need mental health support. We have a Mental Health Key Worker (Mrs Bird) on site to give one to one support to the most vulnerable and we have a school councillor (WPH) on site three days per week offering intensive emotional and mental health support. We have staff trained in mental health first aid and a non-teaching pastoral team to ensure there is always someone available for students who need help. We let all students know 'its ok NOT to be ok'.

Article 12 (respect for the views of the child)
Every child has the right to express their views, feelings and wishes in all matters affecting them, and to have their views considered and taken seriously. This right always applies, for example during immigration proceedings, housing decisions or the child's day-to-day home life.
Student voice at Blue Coat Church of England Academy is high profile and students influence decisions about how the school is run. They have influenced the curriculum, with changes such as the development of a more multicultural history curriculum and helping to suggest new diverse case studies used on Personal Development Day (Diversity and Inclusion Group). They have asked for improved ICT facilities, which resulted in additional computers and laptops available for the sixth form and new sixth form Wi Fi being installed (Sixth Form Senior Leadership Team). While the Student Council have been consulted about new school catering arrangements and have played a central role in introducing the new school PE kit. Student panels are involved in all appointments and our student community regularly approaches the Senior Leadership Team with ideas and developments for the school. Each year students also take part in the school 'Take Over Day' when students 'take over' all school roles for the day.
Article 31 (leisure, play and culture)
Every child has the right to relax, play and take part in a wide range of cultural and artistic activities.
At Blue Coat Church of England Academy, we support students in engaging in a range of enriching experiences. We believe that every child should achieve their full potential and we are committed to ensuring we develop the whole child, with "life in all its fullness" at the heart of what we do. Therefore, we deliver a broad, balanced, and exciting curriculum with both academic and cultural experiences, including trips to the theatre, visits abroad, music lessons provided by the school, visiting artist and vocal workshops, students working with musicians from the orchestra from the Swan Theatre and visits to universities etc. Pupil premium funding is used in a targeted, personalized way which ensures students have access to opportunities.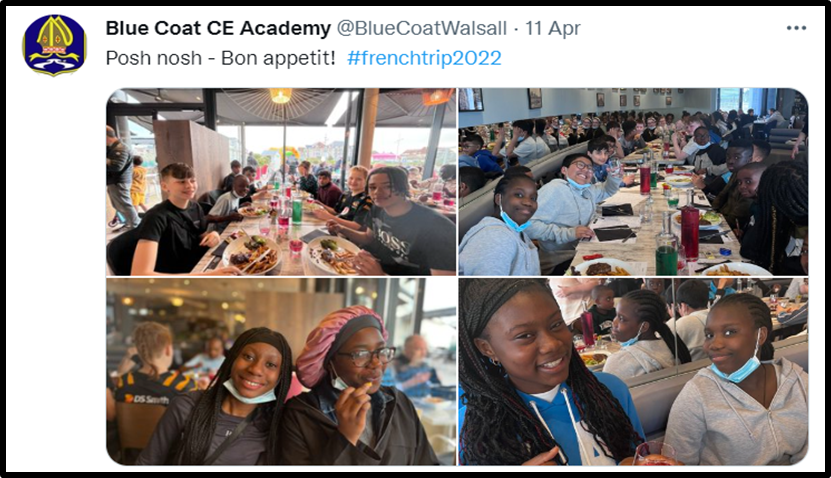 Article 14 (freedom of thought, belief and religion)
Every child has the right to think and believe what they choose and to practise their religion, as long as they are not stopping other people from enjoying their rights. Governments must respect the rights and responsibilities of parents to guide their child as they grow up.
We are a Church of England school and are fully inclusive, supporting the celebration of all faiths. As part of a recent faith survey, we wanted to identify students who can be spiritual guides and lead others towards a meaningful and fulfilling life of faith. 89% of students indicated that they have a faith, with 54% identifying as Muslim and 31% identifying as Christian.   When asked "How seriously do you take your faith compared to your parents/household?", 8% indicated that they (the student) take their faith more seriously, 68% equally seriously. 75% of students were completely confident that God exists and 81% believing that God cares about and guides them.
As a school we believe that prayer deepens our faith, and we are committed to making appropriate provision for prayer and reflection for people of all faiths while also providing a quit space for those of no faith. Our new dedicated prayer room is designed to be welcoming and inclusive to all forms of prayer.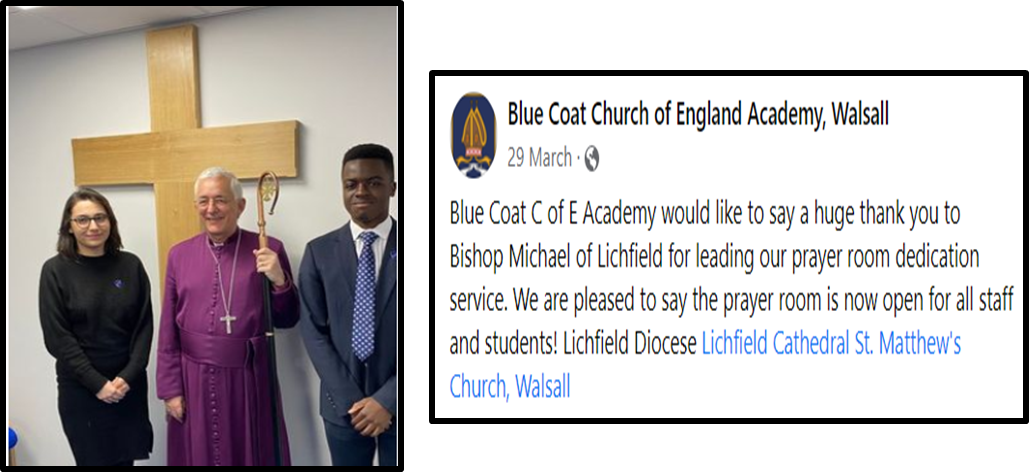 Article 28 (right to education) Every child has the right to an education.
Primary education must be free and different forms of secondary education must be available to every child. Discipline in schools must respect children's dignity and their rights. Richer countries must help poorer countries achieve this.
The schools discipline system is based on our 'Relationship and Behaviour Policy'. It is based on restorative practice, which aims to build positive relationships and repair them when they break – mediation occurs with staff and students and everyone in the school community is supported to make positive choices.  When consequences are given, restorative conversations between all concerned groups take place. It is based in respect and dignity for all.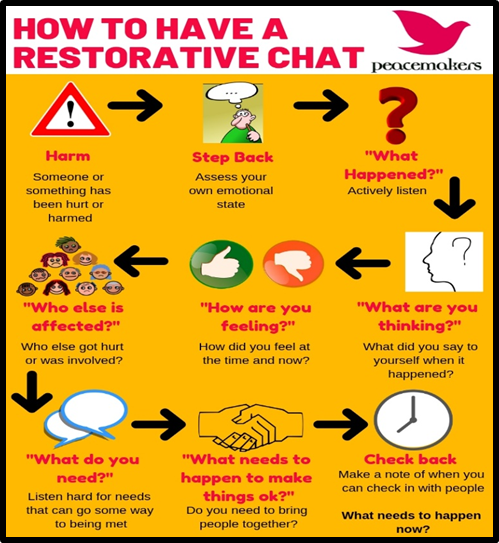 Article 29 (goals of education)
 Education must develop every child's personality, talents and abilities to the full. It must encourage the child's respect for human rights, as well as respect for their parents, their own and other cultures, and the environment.
There is a culture of aspiring to be the best you can be (the person God created you to be) within school. The talents and abilities of students are nurtured to the fullest. The school considers the knowledge and skills needed to take advantage of future opportunities and supports students in aspiring to have the best possible future. Year 10 students have attended an Oxbridge talk this year and 10 students are visiting Oxford this term and will also be given the opportunity to visit Cambridge.  Pathways into health care and medicine have been developed, breaking down barriers and supporting greater access into university. While Year 11 students have visited the University of Wolverhampton and a group of Year 10 students have places on the University of Birmingham summer school.
Respect for human rights, as well as respect for different cultures and the environment, is promoted across a range of curriculum areas, including RE. History and Geography.